TOP >
WEKO Rotor Dampening System
WEKO Rotor Dampening System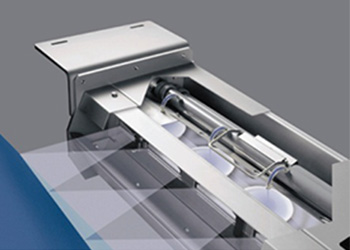 The applied solution is turned into thin fan-shaped mist
by the belt-driven rotors rotating at high speed and
picked up by sheets.
The overall application width is controlled by the number
of rotors, the basic application quantity by the rotor's model,
and the ON/OFF of spray application by the opening/closing
of the shutter.

・Sudden speed change in application quantity.
・Uniform application with non-contact.
・Digital display of application quantity allows for application quantity control.
・Doubling of the scattering control range with inverter drive control.
・A wide choice of options according to purpose and use.
Use Examples
・Application of mold releasing silicon, defogging agents, and antistatic agents to various plastic sheets.
・Application for moisture adjustment or moistening in the paper manufacturing/processing line.
・Moistening and application of softening agents, water repellent agents, and various resin finishing agents in the textile processing line.
・Application of various functional agents such as oils, softening agents, hydrophilic agents, and photocatalysts to non-wovens.
・Moistening to prevent hold cracking and static electricity after drying in offset printing.
・Moistening in the board manufacturing process for particleboards, main distributing frames (MDF), etc.